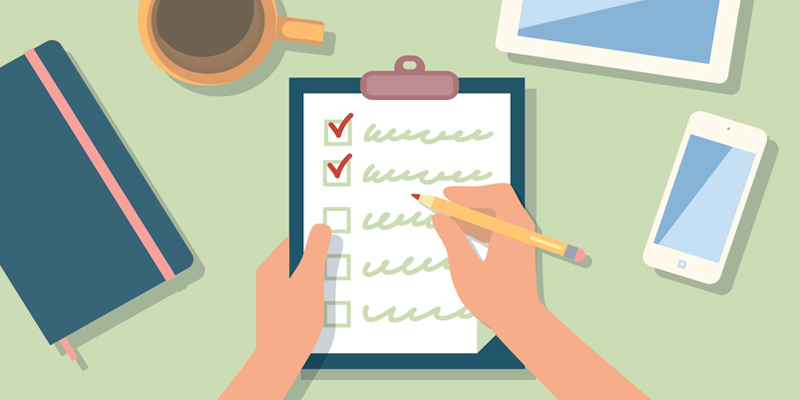 Buying a house? Here's the ultimate checklist to help ease the process.
There are so many checklists floating around the Internet, one gets swamped in the sheer amount of information and confusion reigns supreme. So, we decided to create the mother of all checklists – complete with almost every kind of tip imaginable.
Conduct a little research on the builder whose property you are going to buy. Check if he is reputable and his presence in the real estate market. It would be wise to see if he has all the required documents to develop a project in that area, viz. land records, construction clearances, approved building and layout plans, land use certificate, master plan of the area, and no objection certificates from various utility boards.
Estimate the total cost of ownership, including parking charges, stamp duty, registration charges, new furniture / furnishings that a customer may have to purchase. All this could contribute to almost 5-20 percent of the bare cost of the apartment.
It is important to understand about the final usable area of the apartment, especially in case of apartments under construction. Most of the times, the sale would be on super-built up area. Consumers need to be comfortable with the liveable area they will finally get to use.
Estimate the total cost of running the home. This will include maintenance charges, property tax, and increased commuting charges as compared to your present place. Please ensure that this fits in your monthly budget.
It's equally important to check whether the building is pet friendly. Societies and apartment complexes cannot object to residents having pets. If you have pets, then this circular will help in case any arguments break out over having pets in your home.
If you are buying the apartment as an investment, think through the profile of your typical tenant and whether the location of your apartment is good enough for such a tenant. If it is a commuting couple, see if the apartment is close to the railway station
Speak with the watchman of the neighbouring building, in case the building you want buy the flat in is under construction, to find out the situation of water supply, electricity supply, availability of domestic help, level of security and safety, neighbourhood grocery stores, deliveries from restaurants, gyms, day care centres, hospitals and schools, depending on your life situation, and your need.
Find the average range of prices in the neighbourhood by asking around. One should speak to people in 2-3 neighbouring buildings to get an idea. There could be a range of 5-10 percent difference even within neighbouring buildings, depending on quality of construction, exact configuration of apartment, etc.
If you are buying an under-construction apartment, then visit buildings already delivered by the same builder to check out on quality of his construction, assuming that he would deliver minimum quality here. You can ask occupants of the older buildings on whether the building was developed on time, or whether the developers handed over the building to the society amicably.
To sum it up, buying an apartment is possibly the biggest decision you would take, ranking after your marriage and having a child. You have a responsibility towards yourself and towards your family and doing all the above due diligence before buying your apartment, will ensure that you get what you expect.